COVID-19 : 20-21 School Year:
The Erie County Technical School 20-21 school year will begin on August 25th, 2020 on a Hybrid A-B Day schedule. The A-B Day schedule is available and detailed on our Calendar. The Student page has more details. Read the announcement by Dr. H. Fred Walker from August 13th, 2020. Review our health and safety plan for operating details. Our offices remain under construction, but we are open with social distancing practices, please be patient with our procedures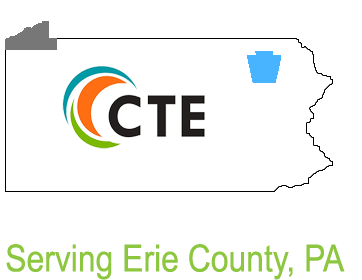 The Erie County Technical School, located in northwest Pennsylvania provides career and technical education to students across Erie County in partnership with our surrounding school districts.

Students currently attending our partner districts Fairview, Fort LeBoeuf, General McLane, Girard, Harbor Creek, Iroquois, Millcreek, North East, Northwestern, Union City, and Wattsburg have the choice of a technical education with us learning an exciting career and an academic foundation through technical skills with hands-on experience.

Quick Resources

Announcements
Next Time

No news is often good news!!

Social

News

Thank you Erie for your appreciation and support of our school. Principal Joe Tarasovitch and Business Manager Terri Birchard proudly accepted our 8th Erie's Choice Award for Technical Education on October 16th, 2019. We could not be more grateful and proud of our faculty and staff for their dedication and commitment to their craft, and the students they serve.