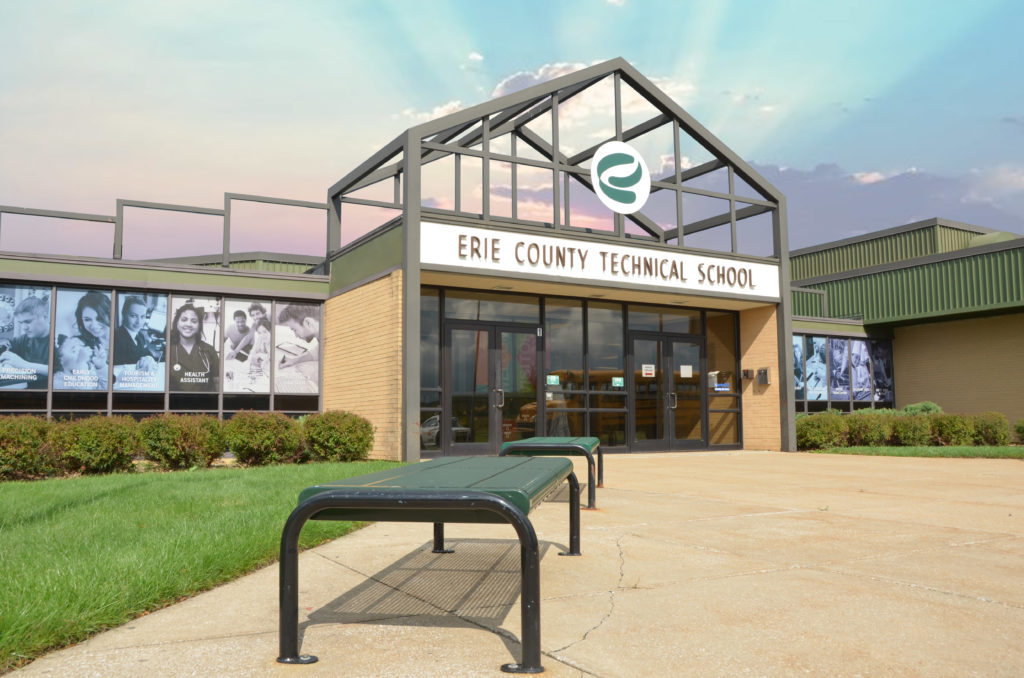 Our Mission
The Erie County Technical School delivers career success to Northwest Pennsylvania through:
• Employ-Ability
• Career Planning
• Technical Education
• Supporting Academic
Our Vision
The Erie County Technical School, while continuing to serve our existing students, will serve the career preparation needs of new groups of students. We expect to serve more students who will pursue postsecondary education, as well as those who have yet to decide on their career or educational plans. Students will come to our school because we offer programs that help them pursue their career paths, lead them to respected occupations, and emphasize the need for lifelong learning.
We also expect to serve as the hub for career development of all students in our service area. It is imperative that students at all grade levels participate in a coordinated career development program so that they make informed career decisions. In support of this career development program and our overall mission, we will work to convince students, their parents and the public that career and technical education is good for everyone.
Our History
The Erie County Technical School opened it's doors on September 4, 1968 to 860 students under the direction and leadership of Superintendent of Record, Dr. Kenneth D. Frantz and Director of Vocational Education, Carl S. Bauer. Remarks such as "This is the best machine shop equipment that I have ever seen." and "I never dreamed it would be anything like this." illustrate the "wonderment" that was on display in the days leading up to our official dedication on Oct 13, 1968. The construction was dedicated to Maurice E. Koplien, Superintendent of Erie County Public Schools from 1941 to 1966, whose vision and diligence are primarily responsible for the establishment of this school.
In our over 50 years since, we continually aim high for our partner school districts, regional employers, and surrounding universities to prepare our high school graduates for their workforce and a higher education.
Our Quality Policy
The Erie County Technical School is committed to providing career and technical education that exceeds the expectations of our customers while continually measuring our progress and improving our programs and services.
Our Principles
• Ensure the safety and welfare of our students
• Provide opportunities for learning
• Protect the public trust
• Provide for the transition from school to work or additional schooling
• Embrace diversity
Location
Contact
Mail:
Erie County Technical School
8500 Oliver Road
Erie, PA 16509

Phone:
Main: (814)464-8600
High School: (814)464-8602
Administration: (814)464-8660