Making the most of your stay!
Does travel, attending events, and meeting new people excite you? Then Hospitality Management & Tourism is for you! You'll learn how hotels, resorts, and popular vacation spots are operated. You will be involved in planning and setting up for events from weddings to major conventions. Bring your planning skills along with your sense of adventure to Hospitality Management and Tourism!
Serve as a team member in a prominent hotel and conference center.
Work with hospitality professionals to provide high quality customer service.
Experience a wide-range of careers within the growing hospitality industry
Prospective Students
Should enjoy working with people and be able to work well under pressure; have physical stamina and coordination; good organizational skills; and basic math and reading abilities.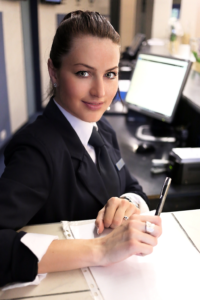 You Can Be . . .
Front Desk Agent
Housekeeper
Executive Housekeeper
Front Office Manager
Learn about these occupations and more at O-Net.
Career Focus
Prepared for college in Hospitality Management and immediate employment.
Earn College Credits
Satisfactory completion of this program earns you college credits. See our list of universities we have articulation agreements with.
Get Certified
American Hotel and Lodging Association certificates
Certified Food Safety Manager certificate
Controlling Alcohol Risks Effectively (CARE) certificate
OSHA 10-Hour General Industry Certification
What's it like?
This program has everything you will need to get started on a hospitality career. Upon graduation, students are ready to begin their hospitality career or continue their education at a college or university.

In this program, students participate in activities that teach valuable lodging skills and knowledge. Students also participate in internships supervised by the instructor and a worksite mentor.
Major instructional units in the curriculum include: an overview of lodging management, the front office, housekeeping, leadership and management, marketing and sales, and food and beverage service.